Best Web Hosting Companies In Bangladesh
As online-based businesses are expanding quite rapidly in Bangladesh, no wonder website owners seek the best web hosting provider to host their website easily. Thankfully, now there are lots of top-notch hosting providers available.
Though finding the most reliable, secure, and professional hosting company is a little challenging. So we'll help you out in this aspect.
In this article, we'll list the top 11 best web hosting companies in Bangladesh and discuss their features and packages broadly. So stay with us till the end and significantly host your website, picking the best one.
The Best Web Hosting Companies In Bangladesh
1. ExonHost – Best for Budget-Friendly Price
ExonHost is one of the well-known and reliable web hosting companies in Bangladesh. It started its journey in 2009. Now the company provides services including premium hosting, reseller hosting, and Private Server Solution. 
You can quickly get any enterprise-level solution from this company. Its premium hardware efficiently provides you with high-performance services. It makes your website faster to increase search ranking quickly.
This one is a renowned Cheap web hosting in Bangladesh. Its payment method is flexible, so you can purchase a monthly package or go yearly. With this service provider, Bangladeshi website owners can take host for TK $2.99 per month.
If you want to move to another web hosting company, ExonHost will enable you to transfer the files for free.
Details Service package with a price
Starter Package- Tk. 245/ Per month
Standard Package- Tk. 489/ Per month
Advanced- TK796/month
SSL
ExonHost web hosting company offers free SSL certificates that ensure protection against malware.
How to get support
ExonHost offers support 24/7 for its clients.
Type of web server
The company specializes in the following web hosting products
SSL Certificates
Shared Hosting
Virtual Servers
VPS Hosting
Dedicated Servers
Reseller Hosting
Domain Registration
Payment Gateway
Credit Card
PayPal
Internet Bank
Walletmix
bKash
Rocket
Reseller packages are found white-labeled and come with advanced features, including:
CloudLinux / CageFS
20 GBPS DDoS protection
Clustered Failover DNS
SSH Access
2. Hostever- Best For Quality Web Hosting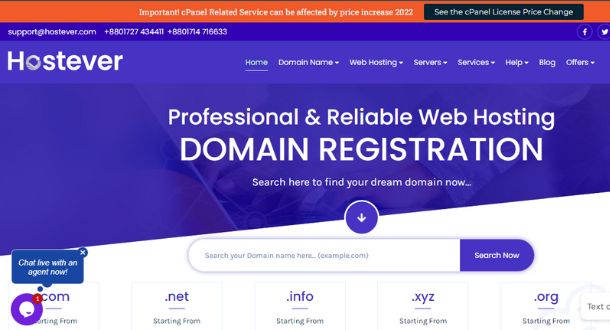 Founded in 2011, Hostever started its company globally in the USA and Bangladesh. It's a part of Code for Host Inc Limited registered by the Directorate of Joint Capital Companies and Firms, Bangladesh.
It provides services including VDS, RDP, VPS, Dedicated server, domain registration, Linux and Windows shared hosting. It is the most popular web hosting company in Bangladesh as it belongs to market-leading data centers. On top-notch, its services are remarkably reliable, secure, and affordable.
It has data centers in several locations, including the USA, UK, Bangladesh, Singapore, Netherland, and many more. It provides entirely automated service from its hardware and network.
Details Service package with a price
BDIX Advance 1GB- 150 Tk Monthly
BDIX Advance 2GB- 250 Tk Monthly
BDIX Advance 5GB- 440 Tk Monthly
BDIX Advance 10GB- 720 tk Monthly
BDIX Advance 20GB- 1200 tk Monthly
BDIX Advance 50GB- 1599 tk Monthly
BDIX Advance 75GB- 2400 Tk Monthly
BDIX Advance 100GB- 3000 tk Monthly
Type of web server
Advance
Reseller
BDIX
VPS Server
Budget
SSD
Dedicated
Corporate
WordPress
Payment Gateway
Payoneer
PayPal
Visa Card
QCash
DBBL Nexus
Suresh
AMEX card
MasterCard
Internet Banking (YouPay, Bank Asia, CityTouch, etc.)
iPay
Upay
Rocket
bKash
SSL
However, it gives you a lifetime free SSL certificate.
How to get support
This company is well reputed for its high-quality customer care. For the advance plan, it'll provide you 3-layer data backup and a free domain with a hosting plan for 1 year.
3. Hosting Bangladesh- Best For Corporate Web Hosting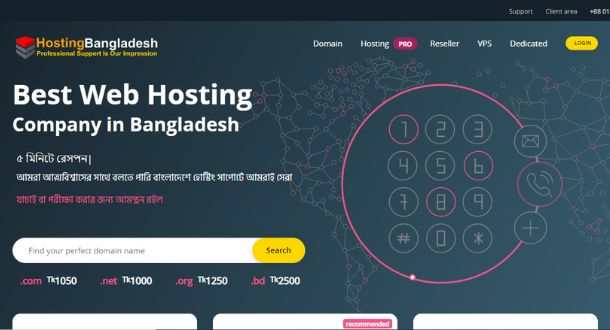 Are you looking for proficient corporate web solutions? Then the one we recommend is Hosting Bangladesh. The company is a most wanted web hosting company offering a very reasonable price for its exquisite range of hosting services.
Besides its specialized web hosting packages, it also provides
E-commerce
Search Engine Promotion
Web Marketing
Web Design
Business Web Solution
Web Programming Solution
Email Marketing
Details Service package with a price
Payment gateway
Type of web server
VPS Server-1500 per month
Dedicated- Tk. 6500 per month
Reseller- Tk. 900 per month
WordPress- Tk. 950 per year
Corporate hosting- Tk. 777 per month
SSD web hosting- Tk. 800 per year
SSL
This web hosting company negotiated strong partnerships with the most renowned and largest global SSL providers. So you'll get a full suite of trusted SSL certificates from HostingBangladesh.
How to get support
HostingBangladesh concerns for client needs. So it provides fast customer support within 5 minutes and 24/7. Even it offers a money-back guarantee.
4. Web Host BD- Best For Variety Of Packages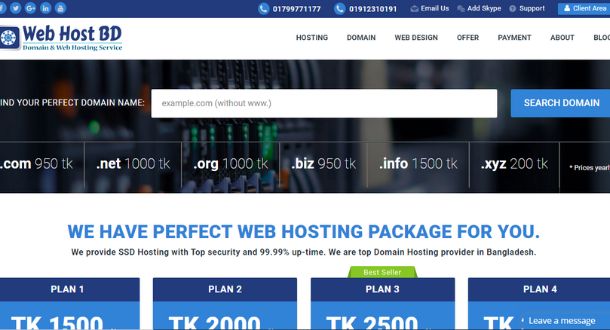 It's a US-based hosting provider that continues its outstanding services from May 14, 2012. It manages the servers from various top-rated and award-winning data centers.
The most important thing it provides is a wide range of packages that enable the buyers to pick any package according to their necessity.
Notably, Web Host Bd provides clients with optimum web security options and a fantastic range of features. However, this one will be an excellent pick for bloggers or small-scale business owners.
Details Service package with a price BDT
Plan 1- Tk. 1500/year
Plan 2- Tk. 2000/year
Plan 3- Tk. 2500/year
Plan 4- Tk. 3000/year
Plan 5- Tk. 4500/year
Plan 6- Tk. 6000/year
Plan 7- Tk. 7000/year.
Plan 8- Tk. 8000/year
Payment gateway
City Bank
Nagad
National Bank
DBBL
NexusPay
BRAC Bank
bKash
Rocket
Type of web server
Dedicated Server
Reseller
VPS
Shared
SSL
It offers a free SSL lifetime certificate.
How to get support
Web Host BD delivers dedicated customer support that you can reach and get your solution immediately. Otherwise, this provider offers its client a "30 days money-back guarantee" for any shared web hosting packages.
5. MyLightHost- Best For High Performance Hosting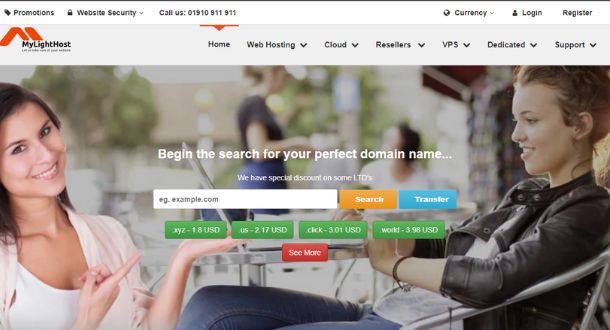 MyLightHost was founded in 2013, and within these few years, it became one of the top web hosting companies in Bangladesh. The reason behind its success is its high performance.
Thankfully, you'll get ultimate and standard packages with accessible domain facilities.
Details Service package with a price
It starts from BDT 254.9/month. Amazingly, you'll get a 30-day free trial to see the quality of its packages.
They provide 4 hosting packages, including
Standard- $5 per month
Ultimate- $12 per month
Deluxe- $7 per month
Economy- $2.98 per month
Payment gateway
DBBL
IFIC Bank
Visa
City Bank
MasterCard
PayPal
bKash
Type of web server
Dedicated server
VPS server
Shared
Reseller
SSL
Free SSL with lifetime availability.
How to get support
This company provides 24/7 reliable and full customer support to its clients regarding their web hosting and domain problems. Also, it offers a 30-day money-back guarantee if you have any issues with its services.
6. HostMight- Best For Fully Managed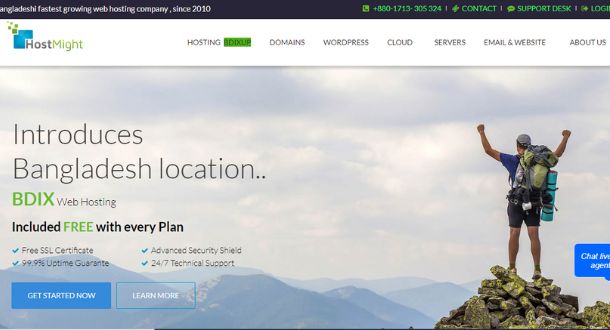 HostMight is the worldwide domain hosting provider that started its journey in Bangladesh in 2010. And now, it plays a significant role in web hosting services.
However, its standard solution is liked by the website owners, which is the main reason behind its popularity in a short period. It uses US-based data centers that ensure your solution is safe, secured, and reliable.
It's a perfect hosting solution for your Online Portfolio, WordPress Blog or just a Hobby site.
Details Service package with a price
Starter- Tk. 1000 per year
Professional- Tk 2500 per year
Ultimate – Tk. 5000 per year
Payment gateway
bKash
Rocket
DBBL Nexus
Visa
MasterCard
Type of web server
Fully Managed VPS
Reseller
Shared
Dedicated Server
SSL
Free SSL Certificates for lifetime.
7. Eicra.com – Best For Affordable Packages
Eicra is an IT service provider and Bangladeshi hosting service. It has excellent fame for providing web hosting solutions. Thanks to Eicra as it supports PHP and MySQL. It offers several packages to the clients. One thing you must expect from this company is a secured web hosting server.
Luckily, you'll get various hosting packages at different prices at your convenience. Nevertheless, there are different kinds of hosting options you can choose.
Web Hosting
Web Design
Web Development
Domain Name Registration
Details Service package with a price
The lowest budget package starts from BDT BDT500/year, and the highest price plan is 25000/year.
Payment gateway
bKash
Skrill
2Checkout
Bank Deposit
Type of web server
Dedicated Server
eCommerce
Unlimited
Windows Server
Linux Server
SSL
Free lifetime SSL certificate.
8. Dhaka Web Host- Best For Customizable Packages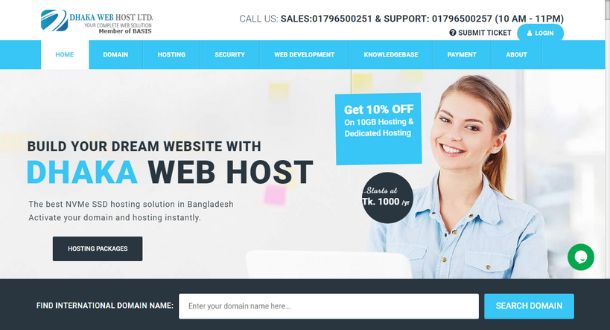 Let's talk about Dhaka web host limited. It's an IT firm as well as a private web hosting company. It started in 2011 and from onwards it continues providing satisfactory services. This company already provides web hosting solutions to around 2500 individuals and business website owners.
If you have ever heard the name "Liquid Web," you must know that it's one of the best data centers. This data center is also used by giant companies such as FedEx, Motorola, Hitachi, ESPN, Toshiba & Hitachi.
Thankfully, Dhaka Web Host uses its servers and no wonder how it provides the best web hosting.
Details Service package with a price
Dhaka Web Host offers different budget-friendly packages starting from BDT 600/year. Also, many other packages can customize for themselves.
BASIC- TK.1200 yearly
Advanced – Tk. 1500 yearly
Business -Tk. 2500 yearly
Professional- Tk. 3500 Yearly
e-commerce- Tk. 5000 Yearly
Enterprise – Tk. 6000 Yearly
Premium – Tk. 7500 Yearly
Unlimited – Tk. 8200 Yearly
Payment gateway
Cash
Internet Bank
MasterCard
Visa
Rocket
bKash
Type of web server
Reseller
Dedicated
VPS
Shared
How to get support
If you do not like its services or have any problem using them, the company will give you a 30-day money-back guarantee for these specific issues.
9. CentrioHost- Best For Innovative And Quality Hosting Solution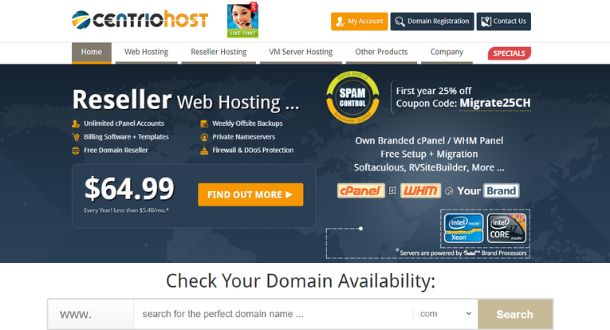 CentrioHost is the most professional, well-reputed, reliable, and affordable web hosting provider.
If you're the person who wants a quick but highly budget-friendly hosting solution, then pick a shared web hosting. Most bloggers or small companies' websites usually seek a shared hosting solution.
Otherwise, who need complete secured web hosting for their reputable business or want to sell some server space, someone else can opt-out of reseller hosting solutions.
CentrioHost network offers its clients upgrade and downgrade ability while scaling your website as you need.
Details Service package with a price
Starter- $14.99 per year
Standard- $30.95 Per year
Essential Plus- $55.95 per year
Business – $75 per year
Payment gateway
PayPal
Skrill
Visa
MasterCard
Bank Transfer
Type of web server
It provides web hosting services, including
10. EyHost- Best For High Quality Security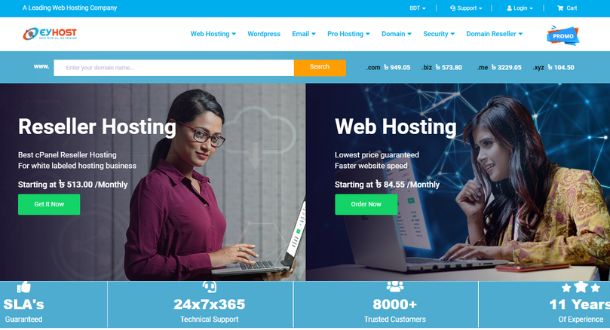 EyHost was founded in 2011 in Bangladesh. IT solution maintains various web hosting services on safe servers. Needless to say, this company is top-rated for its high-rated security and cheap cost. Its server is located in other countries such as Asia, the USA, and Europe.
Individuals, organizations, or business institutions widely use their web hosting solutions. EyHost ensured that the customers could load their website fast, keep it highly secured, and have 100% uptime.
Details Service package with a price
Basic – 87.40 per month
Standard- 292.60 per month
Advance – 531.05 Per Month
Payment gateway
Type of web server
How to get support
This host provider offers 24 hours instant customer support 7 days a week.
11. Zhost- Best for All Level of Organisation
Last but not least, Zhost is the best domain hosting company in Bangladesh. It comes with several hosting packages such as Extreme, Unlimited, Enterprise, Professional, Corporate, Smart, Business, and Starter.
You'll get a completely free domain from it if you choose, .com, .net, .org, .biz, or .info. Even it charges a small amount for its hosting plans, which is affordable for the low-budget people.
It intends to reach all levels of customers with an affordable price for the packages.
Details Service package with a price
Standard- BDT 1500/ Year
Smart Offer – Tk. 2000/ Year
Business Offer- Tk. 3000/ Year
Professional Offer- Tk. 3500/ Year
Corporate Offer – Tk. 4500/ Year
Enterprise Offer- Tk. 5000/ Year
Extreme Offer- Tk. 6000/ Year
Unlimited Offer- Tk. 7500/ Year
Payment gateway
Visa
MasterCard
Rocket
bKash
Type of web server
SSL
It offers a completely free premium SSL certificate for a lifetime.
How to get support
Zhost provides a 100% money-back offer if you're unsatisfied with their service within 30 days of purchasing.
Conclusion
An easy web hosting solution means running your business website smoothly. To ease that, we discussed the top 11 best web hosting providers in Bangladesh.
These companies will be beneficial whether you have a small or large business. Now it's your turn to consider which one is your great pick and purchase your plan soon!
About us and this blog
We are a digital marketing company with a focus on helping our customers achieve great results across several key areas.
Request a free quote
We offer professional SEO services that help websites increase their organic search score drastically in order to compete for the highest rankings even when it comes to highly competitive keywords.
Subscribe to our newsletter!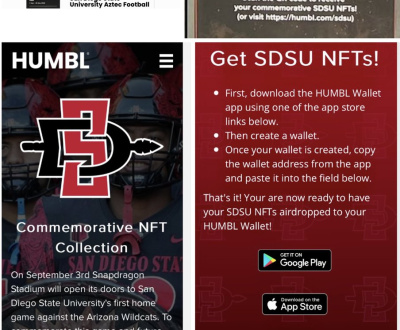 Yes, namecheap domain comes with email. Namecheap offers a free email forwarding…
[easy-share counters=1 counter_pos="inside" native="no" hide_total="yes" fullwidth="yes" fullwidth_fix="100"]